NO PUPPIES AT THE MOMENT. PLANS FOR NEXT YEAR WILL BE UPDATED LATER. WE ARE NOT HOLDING A WAITING LIST AT THIS STAGE. WHEN WE HAVE ANOTHER LITTER AVAILABLE WILL UPDATE DETAILS AT THAT TIME.
ENQUIRIES VIA PHONE CALLS EARLY MORNING OR LATE AT NIGHT WILL NOT BE ANSWERED.
CALLS BEFORE 8AM AND AFTER 8PM WILL NOT BE ANSWERED.


My first PEDIGREE dog was a solid black GSD but with very few around and the "normal" coloured black/tan GSD's just not having the same appeal I started looking for another breed. I saw a Belgain Shepherd Groenendael at a show and was totally entrigued! I got my first Groenendael in 1988 and fell in love with the breed. She was an absolute sweetheart! The more I learnt about the breed the more determined I was to promote these beautiful dogs. Thinking how great it would be to have one of each variety I set out to find a Malinois. "Rahnee" (CH Roadsend Amber Lights) arrived in 1990 from Victoria and WHAT A BEAUTY he was. I have been concentrating on the Malinois variety for many years now and have achieved great success not only in showing but breeding many quality dogs from the extremely limited gene pool available in this country.
Rahnee and Mouchette - our foundation breeding bitch produced 2 stunning litters from which we have bred on from -
The first litter produced Australia's first GRAND CHAMPION MALINOIS - AUST GRAND CHAMPION LESADRET ZIBETTE ET (Tessie) In her too short life Tessie did what no other had done in her time. She was a Multi Class in Group winner,(she won class in group awards from baby, CHAMPION PUPPY through all the classes until her death) Specialty Best of Breed and Class in Show winner, graded excellent, and won 6 ROYAL BEST of BREED awards. She was a dream to train in obedience and absolutely loved agility and on farm herding!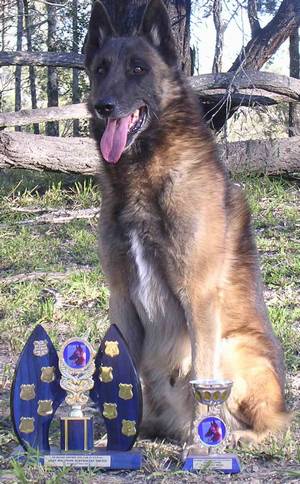 The second litter produced Australia's second GRAND CHAMPION MALINOIS - AUST GRAND CHAMPION QLCA F CH CHAMSHEP DARE DEVIL CD ET HT (Dino). Dino himself has produced some nice pups and has proven himself invaluable to me as my guardian and protector. He obtained his Herding Title (HT)at 11 yrs of age. He is a Lure Coursing Field Champion and competed in the veteran class until we moved too far way to continue. He has also started tracking training with his normal HUGE enthusiasm. Dino takes all in his stride and is always extremely excited to take part in whatever I want to have a go at! The decision was made to totally retire Dino from competition after suffering a stroke early in 2008. Dino is the sort of dog that will go to the end of the earth for his human friends and not allowing him to "get out there and strut his stuff" is hard for him to understand (he still thinks he's a pup and doesn't realise his limitations now) and heart breaking for us. Working and training this boy is an absolute pleasure. There is a bond between us that has never existed with any other - not even his sister and she was my absolute treasure! If you truly love your animals you will understand the unspoken bond. The pleasure that comes from just being in his company is indescribable.
Although Rahnee and Tessie are no longer here they have both left a part of themselves in all my current Malinois. The matriach of our kennels - Mouchette- sadly passed over the bridge just short of her 16th birthday. With every generation we have achieved healthy, happy, champions (Titled our 7th generation recently!!) We have achieved nearly 100 titles on our dogs PLUS the titles attained by the wonderful people that have dogs we bred. (Thank you for all your hard work and dedication.) Our Malinois have been awarded over 5000 challenge points. (That's over 50 single Aust CH titles if done on separate dogs - 3000pts for only 3 dogs.) We have also titled several Tervueren, Groenendael and Laekenois. Not to mention 14 Endurance Test titles and more to come!! We attend as many Specialty Shows as we can but as we do have alot of committments at home it is often hard for us to travel interstate. We attend at least 2 "Royal" shows each year and have won over 25 BEST OF BREED awards and many more "Royal" Challenges, Reserve Challenges and Runner Up Best of Breed Awards. We are the first Malinois kennel in QLD to be awarded a Reserve Exhibit in Group. This was a huge thrill and a massive achievement for a Malinois in QLD. Although we have regularly picked up class in group awards no one had ever cracked the big ones - Best or Reserve in Group - in QLD!
Our dogs participate in conformation showing, obedience, agility and absolutely love Lure Coursing! Our girl "HOLLY" is the first Belgian of any variety in Australia to achieve FIELD CHAMPION status. (Verified by club historian) and we also have 3 GSD Field Champions. The dogs and owners really enjoy the day - check out the link to QLCA on our Link page. Our experience with training, showing dogs etc spans over 20 years. We work with other kennels and breeders to expand our bloodlines and improve on the dogs we breed and own.
Some other dogs that we have bred are currently training in security and tracking for search and rescue. Many have gone to new homes and become wonderful family companions, which is our greatest delight! It is wonderful to hear back years later that the cute little puppy you sold has become the most loved and cared for pet and very much a part of a new family!
If you are looking for a low maintenance, easy to train, loyal, loving and attentive pet then maybe a Belgian will suit you and your family. All our puppies are raised in our home and handled by our children. Puppies do not leave our care until at least 8 weeks of age after being vaccinated, regularly wormed, bathed, heartwormed and vet checked etc. All come with info folder with recommendations for feeding and general care / training.
Although we do participate in showing and other activities and have achieved more than most can dream of achieving, we always put the welfare of our dogs first. Winning in the show ring or being "first" or "No.1" is a very clear second when it comes to the happiness and welfare of our furkids. We don't enjoy the politics and rumours that come with competing in the show ring, so therefore are not interested in breed clubs etc. (Been there, done that and it doesn't hold much weight with us). We established the BSDCQ with alot of blood, sweat and tears & to turn our backs and walk away because of politics was a hard decision, but certainly not one we regret. Life is too short for that sort of rubbish and does the breed no good. If you are researching dogs or looking for a puppy as your new companion, don't believe all you are told, speak to breeders directly - don't take what other breeder says as gospel. We enjoy our days out with the kids and no matter what we think we take home the best dogs, win, lose or otherwise! As long as our dogs are happy, we are happy.

** WE WOULD LIKE TO THANK ALL THE LOCAL, INTERSTATE AND OVERSEAS JUDGES THAT HAVE AWARDED OUR DOGS THE COUNTLESS ACCOLADES OVER THE LAST 25 YEARS. WE THANK YOU SINCERELY AND APPRECIATE ALL THE HELP RECEIVED FROM FRIENDS WHEN THE CHIPS HAVE BEEN DOWN. THINGS ONLY GET BIGGER AND BETTER FROM HERE!!

**BEYOND ALL THE SUCCESSES OUR DOGS ARE OUR LIFE AND THEY ARE ALL JUST OUR PETS FIRST AND FORMOST.**
PLEASE DON'T FORGET TO SIGN OUR GUESTBOOK AND CHECK BACK REGULARLY FOR UPDATES!!
*************************************************************