Our gorgeous Groenendael!
The Groenendael was the first variety of Belgian to share our lives. It was the gorgeous girl AUST CH TIMMAR ECSTASY "Tassie" that cemented our love of this wonderful breed.
Tassie was bred twice to produce litters of stunning dogs that did very well in the show ring.
The first litter to AUST CH DRAGONWEYR DE DEMON produced 2 titled dogs and another that was only a challenge away when he lost a section of his ear in a fight when neighbouring dogs entered our property.
Aust Ch Chamshep Andronica Ash
Aust Ch Chamshep Andronica Black (Owned by Ann Wakefield)
Chamshep Apollo
We were so impressed with this litter that we decided to use our male - the son of De Demon.
Aust Ch Dragonweyr Imposatan "Max" & Tassie produced 8 puppies - 4 males / 4 females.
From this litter a gorgeous male stayed with us to be shown.
Chamshep Beau Mitchell exceeded all expectations winning mulitple class in group awards and Class in Show awards. He also won Best of Breed at the Brisbane Royal from Puppy Class in 1992.
Unfortunately due to my personal situation at the time I was forced to rehome Mitchell before gaining his title. He spend the rest of his days very much loved by a couple that I will be ever grateful to.
Luckily I was able to use him at stud many years later when I again had a bitch to breed with and a more suitable situation.
Mitchell's daughter Chamshep Dark Desire titled easily in NSW while another daughter Cedar Rose took to obedience and agility with ease.
(Will add photos once they have been retrieved from the storage boxes)
Our current Groenendael have done very well in the show ring with Traz going back to some of our original dogs. Our girls are sired by the absolutely gorgeous imported dog Multi Ch Bergerac Faust.
Breeding plans for our girls will be finalised soon.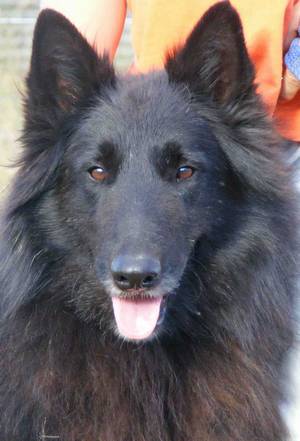 Aust Ch Wolfonyx Alcatraz ET