Aust CH Weedram M Copper Coin ET - "Mouchette" or affectionately known as "Moo"
23.10.1992 - 4.10.2008
With must sadness we said good bye to a GRAND OLD LADY - 3 weeks short of her 16th birthday.
Old age had finally taken it's toll on what was once a very strong and noble lady. Moo had ruled the household from the time she arrived to live with us over 10yrs ago. All the other dogs respected her and our poor suffering cat soon learnt to steer clear of her!
She bought us much joy and countless laughs and smiles. She just slotted in here like she had always been here and it was an absolute pleasure to have known and loved her. Moo already had a special place in our lives as she was Rahnee's first "girlfriend" and mother to our very special girl "Tessie" (Aust GRAND CH Lesadret Zibette ET) and our equally special boy "Dino" (Aust GRAND CH Chamshep Dare Devil CD ET HT). So when we were asked if we could give her a home, of course she was very much welcomed.
Moo had not been shown before coming to us so we set about toning her up for the shows. She did very well competing not only against her own children but other Malinois in the ring at the time. She won Res CC Bitch behind her famous daughter at 2 Royal Shows and titled quite easily. She also strutted her stuff for a Endurance Test just before her 8th birthday(the cut off age to compete). She also enjoyed some runs at Lure Coursing in the veteran class.
Her quality and outstanding temperment has shown through in the 6 generations we have bred on from her and Rahnee. She has always been on hand to teach our puppies manners and respect and all the puppies have shown her exactly that!
It will be a very different home here now without her..........
There are so many funny stories of her antics that we would love to share but right now just typing this is very painful and finding it hard to see the keys through the tears. More photos etc will be updated soon.
Rest In Peace Moo, we all love you very much and thank you for all you gave to us over the years. Old age is a real bugger........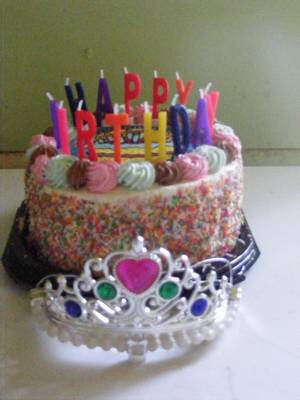 A TIARA FOR THE QUEEN!
WHEN WE CELEBRATED MOO'S 14TH BIRTHDAY LAST YEAR, WE HOPED IT WOULDN'T BE THE LAST! WELL HERE WE ARE AGAIN THIS YEAR CELEBRATING HER 15TH BIRTHDAY. SHE HAS SLOWED DOWN ALOT IN THE PAST 12 MTHS BUT IS STILL THE QUEEN OF OUR HOME!
WE KNOW THAT TIME IS OF THE ESSENCE NOW AND WE PLAN TO ENJOY ALL THAT WE HAVE LEFT WITH HER. OLD AGE IS CERTAINLY CATCHING UP WITH HER BUT AS LONG AS SHE IS STILL HAPPY AND SHOWS NO SIGNS OF BEING IN ANY PAIN WE WILL DO ALL WE CAN TO MAKE SURE HER REMAINING TIME WITH US IS A HAPPY TIME!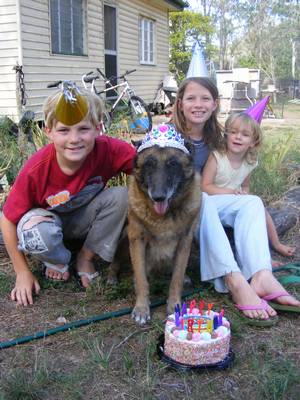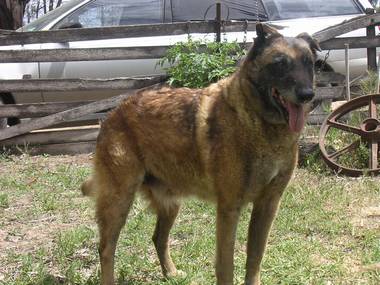 ALL THE DOGS ENJOYED A SPECIAL TREAT FOR MOO'S BIRTHDAY, WHILE SHE ENJOYED SOME OF HER CAKE - AT HER AGE A BIT OF BIRTHDAY CAKE ISN'T GOING TO HURT!